Here at Pursueit, our path to excellence is guided by our simple motto – #GoPursueIt. Everything of interest and passion to you is right at your fingertips. All you have to do is take that one extra step to grasp it. Let us be your one extra step. Especially when it comes to learning new skills – like roller skating – Pursueit is definitely your go-to! Roller skating or hopping on your penny board and just skating in Dubai, feeling the wind rush by you as the sun sets over the Dubai skyline, is definitely something we should all experience. We offer you the best classes for roller skating in Dubai that are also pocket-friendly. Here are the different specialized kinds of classes for roller skating in Dubai that we provide:
For the little ones
Roller skating is an exceptionally engaging activity that requires balance and strength. For parents looking for skating classes in Dubai for their kids, they have to stress about so many factors, like the stamina and strength of their little ones. We guarantee you roller skating classes led by professionals who tailor their courses to fit the needs of children. Roller skating is something fun that children as young as three years old can try with the right coach. With Pursueit, you can enroll your children in the best skating classes in Dubai that are available right now!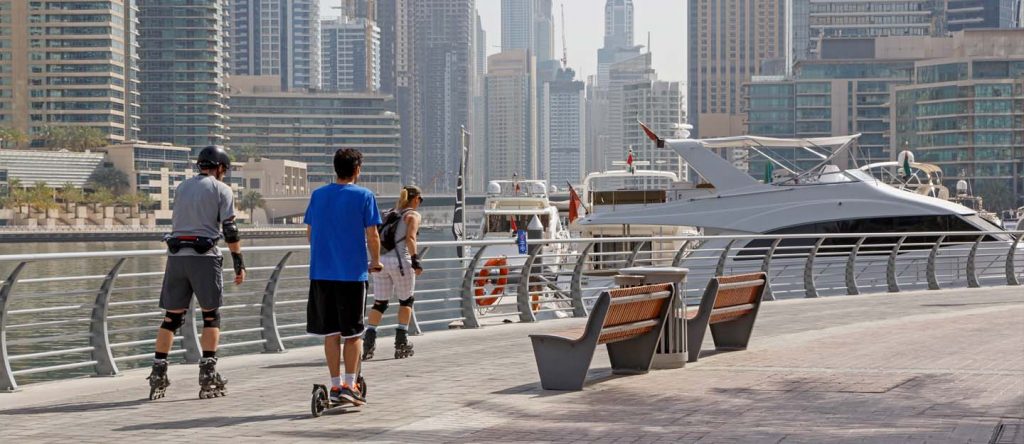 For adults
Yeah, we know what you're thinking. And no, you are not too old to skate! Apart from being one of the most fulfilling and fun activities, roller skating in Dubai can be a wonderful way to bond with your loved ones together. Skating in Dubai is a lot easier than you think – with designated areas that are aesthetically pleasing and well-maintained, all you need is a little push to get on those wheels. At Pursueit, we are offering you affordable classes for roller skating in Dubai with excellent instructors to make sure your learning experience is as smooth as possible. These classes are good stress busters for adults, not to mention the various health benefits it has. Trust us, doing tricks on your roller skates is way more fun than taking a gym membership that you're never going to use (not to mention how much cooler you look, duh).
1-on-1 Classes
Roller skating to beginners, both kids and adults can look pretty intimidating. However, with the kind of professionals that you will be learning from, it's going to be a breeze. Even then, we know there are some of us out there who need a little more than just a push – a little extra time, a little extra care, and a little more attention. Pursueit got you covered! With our 1-on-1 classes for roller skating in Dubai, we can provide personalized instruction to individuals who are looking for it. With first-hand interaction and engagement with the teacher, you will be able to grasp the nuances of roller skating at your own pace.
These classes for roller skating in Dubai are an ideal opportunity for you! You get to be open and communicate your needs to a professional who can guide you to your goals. Whether it's doing tricks on a roller skate or even if it's an attempt at inculcating roller skating into a calorie-burning activity into your lifestyle, these classes for skating in Dubai will provide you with real-time feedback to improve.
Closing thoughts
Opting for roller skating in Dubai is definitely one of the best ways to spend your time. At Pursueit, we focus on offering skating classes that provide quality communication and engagement where each student is taken care of and listened to. To master any skill, we need to spend considerable time practicing it. These classes are designed to do this in the most effective way possible! We ensure that the instructors are excellent in their field, working constantly to make sure the student is progressing and developing their skill with each class. Our priority has always been achieving higher growth and helping you enhance your skillset. Your time is the most valuable thing in this world, with Pursueit, you can make the best out of it.
Roller skating is rooted in so many different cultures in different ways, but they always have the same underlying sense of freedom and 'flying through the air with the wind rushing past you' as the primary theme. Whether it's for this sense of gliding, or the nostalgia it brings you, or heck, even just to post a picture on Instagram captioned #throwback or #skaterthings, Pursueit is always here for you. The roller skating classes in Dubai offered by us are guaranteed to make all your skating dreams come true, because like we said, if you have a goal, don't wait…#GoPursueIt!
Want To Enroll – Visit us at https://www.pursueit.ae/ or Contact Us +971-585787783
Also Read –
To swim or not swim? There's only one answer!
Tips for purchasing your first pair of roller skates
Start Exploring Your Hobbies and Interests!
Develop and Master New Skills, Regardless of your Age, Profession, or Goals: Here's How!
Why Engaging in Activity Classes is a Must for People of all Ages!