If the title made you chuckle a little bit, it's because there's still a small childish edge to you that you can't (or don't want to?) shake off! And that's okay, because Pursueit is here to tell you that we're granting your wish. Kayaking is a beautiful water sport where you paddle yourself through a waterbody. Although it sounds easy, kayaking takes strength and flexibility and can improve it too! Kayaking can build your confidence around water and make you feel bolder with watersport activities. Whether it's as a hobby, passion or just you looking for something fun to do, kayaking is definitely at the top of the list!
So…what's all the hype about?
The kayaking opportunities provided by Pursueit are bound to blow your mind. The things you can do in a kayak, from going wild with the tides to catching a surf wave to even playing games are amazing! Kayaking is essentially rowing through water in a kayak with the help of a double-paddled oar. It's definitely well-deserved hype! Regardless of whether you're an extrovert or an introvert, kayaking has its perks both ways. A quiet ride through the water enjoying the nature is as rewarding as rowing away the fastest you can! Especially when taught right and equipped right, all your inhibitions about kayaking will disappear.
The health benefits kayaking has
Pursueit is offering you a wide range of kayaking activities designed to improve your fitness, core strength and of course, flexibility! Also, it's low impact (phew) and more fun! When you kayak, your strength to row comes from your torso. Especially your arms, back and shoulders put a lot of effort in rowing and pushing your forward in the water. Not to mention how all of this effectively reduces the risk of wear-and-tear on your joints, muscles and improves your overall cardiovascular strength!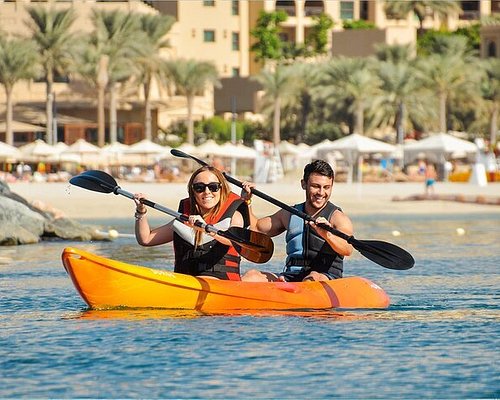 Need more reasons?
Kayaking is one of the most peaceful and soulful experiences there is. Pursueit classes are the perfect place to learn how to find the balance between peace and adventure. Moreover, it can be an eye-opening feeling to truly take in the aesthetic beauty of nature. Bonding with nature has a completely different impact on us and the way we live. An activity like this is bound to make you appreciate the natural elements and their state of being. The waterways in Dubai are gorgeous in their own sense, whether it's the beaches in front of Burj Al Arab or the Dubai Marina. Regardless of where you pick to go kayaking, you get to enjoy the scenic beauty of Dubai. It's the perfect activity!
Before you go kayaking…
The best way to introduce yourself to new activities is to be guided by a professional. The Pursueit classes for kayaking will help you learn the basics of kayaking. Of course, you'll also be introduced to different techniques, safety measures, and other risks. Moreover, this improves your overall kayaking skills not just in terms of the activity, but also in terms of survival skills.
Swimming is also definitely a skill that's going to help you with kayaking. Pursueit offers you a wide range of swimming classes that can better your swimming skills! Whether it's the basic elementary needed (like approaching water safely) or advanced level skills (like strokes, techniques), our classes will give you the perfect swimming insight needed for kayaking!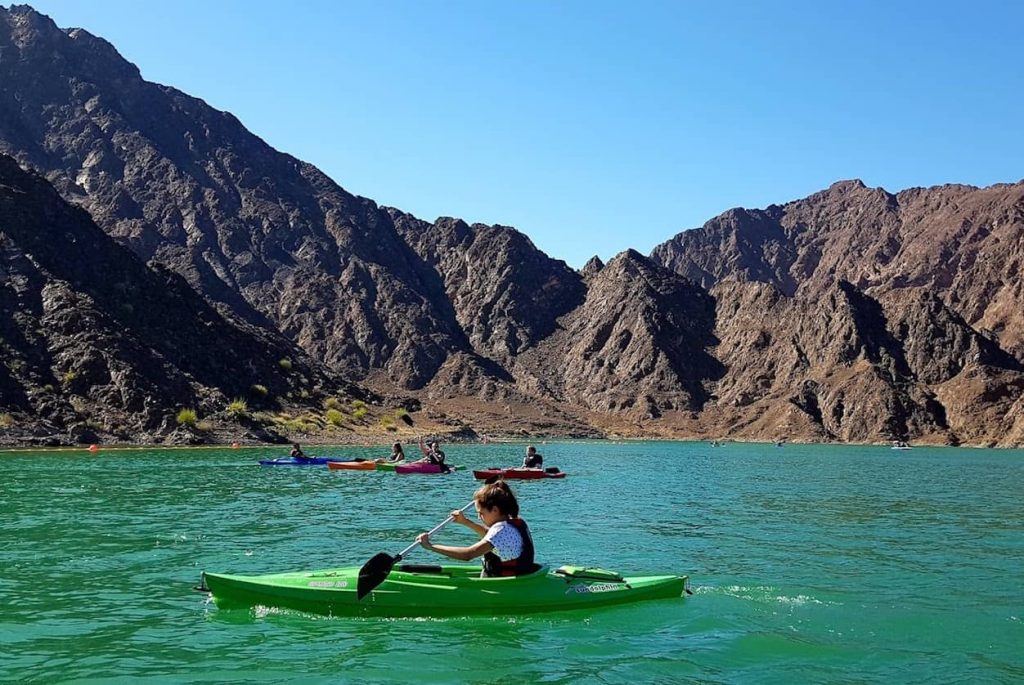 Lastly, the most important tip we can give you is to know what you're buying. Whether it's the paddles or safety gear, kayaking can get expensive. Therefore, it's always better to rent equipment before you start buying them from your pockets. With Pursueit classes, you don't have to worry about this because everything is provided! Not only are you led by a professional who will teach you the ropes of the skill, but you also get to do the activity without spending extra on any equipment!
Closing Thoughts
To summarize, kayaking in Dubai is an exciting activity that will bring you an immense amount of thrill and adventure. Apart from that, it also embodies the best aspects of exercise with the best aspects of fun! Especially when Pursueit is offering it at the best prices possible, this is not a chance you should miss out on. In addition to these perks, kayaking can also be a wonderful way to bond with your loved ones. Besides the obvious adventure element of kayaking, the aesthetic beauty and tranquility the water can bring can work magic! Pursueit has tailored courses that will teach you everything you need to know about kayaking. From how to prep before you start your journey to how to take care of yourself after you've finished kayaking, our classes have got it all. With professionals guiding you through every move, you'll be able to master this in no time. Adventure is waiting out here and calling out your name. So, what are you waiting for? Go #Pursueit!
Want To Enroll – Visit us at https://www.pursueit.ae/ or Contact Us +971-585787783
Also Read –
Discovering the Dive: How Scuba Diving Works
A Splash of Adventure: All You Need to Know About Watersports Dubai!
Why You Should Hire a Personal Trainer
All About Yoga: Your Guide to A Better Life