If you are new to swimming, you might be wondering how to choose the right swimming goggles for your needs. Swimming goggles are important for protecting your eyes from chlorine, salt water, and debris while also improving your underwater vision.
However, not all goggles are made equal, and there are a few things to consider before purchasing a pair. Here are some pointers to consider when looking for the finest swimming goggles for beginners.
How to Ensure Your Swimming Goggles Fit Correctly
One of the critical considerations when choosing swimming goggles is their ability to keep water out. A well-fitting pair is essential to prevent water from seeping in and causing discomfort or obstructing vision.
The goggles should be snug around your eyes but not too tight so that they cause discomfort or leave marks on your face. Holding the goggles against your eyes without the straps allows you to verify the fit. A decent fit is when the goggles produce a slight suction and stay in place.
If they let in air or water, they are too loose and may be unsafe to bathe in. However, if the goggles are too tight, they may harm your eyes and cause discomfort, negatively impacting your swimming experience. When choosing swimming goggles, finding the right mix of fit and comfort is critical.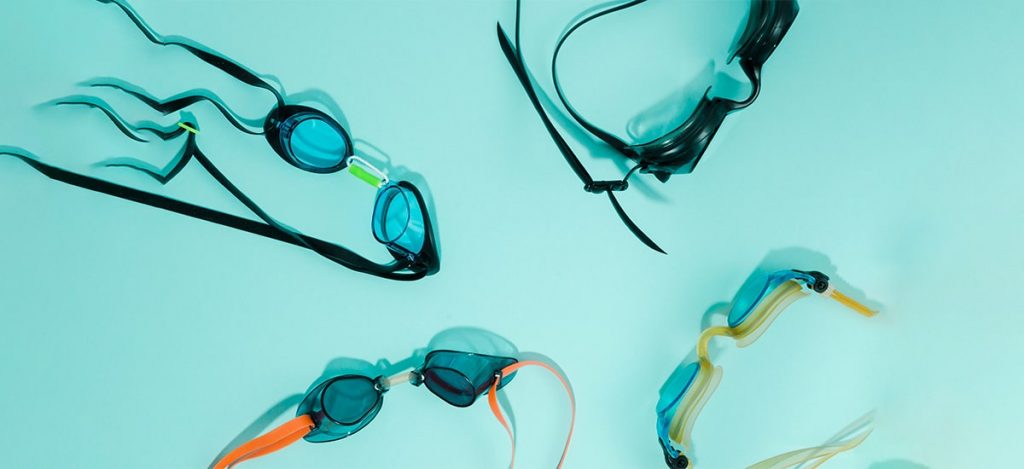 The Role of Comfort in Choosing Swimming Goggles
When choosing goggles, it's critical to consider a variety of factors that influence your degree of comfort. Chafing is one such element that can cause discomfort and irritation to your skin.
As a result, it's critical to search for goggles that feature not only soft and flexible materials like silicone or rubber but also smooth and seamless edges to prevent chafing.
Goggles made of hard or rigid materials, such as plastic or metal, may dig into your face, causing pain and raising the risk of chafing. To guarantee a customized fit and to reduce the risk of chafing, choose goggles with adjustable straps and nose bridges.
To further reduce the risk, apply lubricants such as petroleum jelly to areas prone to chafing, such as the bridge of your forehead or around your eyes.
Choosing the Right Lens for Your Swimming
The lenses of swimming goggles play an important role in improving your underwater vision and adapting to various lighting conditions depending on where you swim.
As a result, when selecting swimming goggles, you should consider the lenses' features as well as their suitability for your swimming surroundings. To avoid blurry vision, choose goggles with clear, sturdy lenses that are immune to scratches and breakage, as well as anti-fog coating or ventilation holes.
Consider clear or light-colored lenses that allow more light into your eyes if you swim indoors or in low-light settings. If you swim outside or in direct sunlight, you should consider using goggles with dark or mirrored lenses to minimize glare and shield your eyes from harmful UV rays.
Polarized lenses can help decrease the glare reflected by the water surface, giving a clearer view of the surroundings for those who swim in open waters. Finally, choosing the correct lenses for your swimming environment can improve your swimming experience significantly.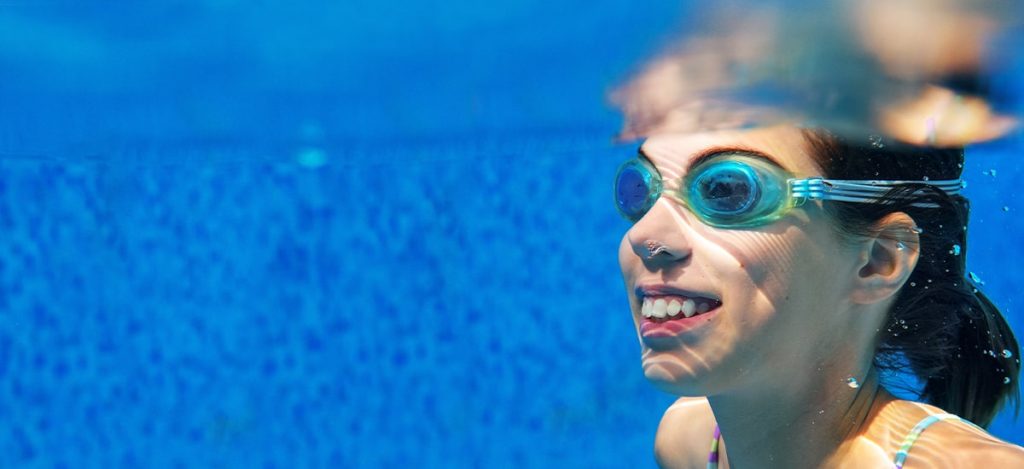 Balancing Style and Functionality in Your Swimming Goggles
You want a pair of swimming goggles that complements your swimwear and accessories as well as your personality and preferences. Swimming goggles come in a variety of shapes, sizes, colors, and patterns to suit your preferences.
If you want a sleek and minimalist appearance, for example, you could choose a pair of low-profile or racing goggles with small frames and lenses. If you want to go for a more fun and unique appearance, try a pair of recreational or novelty goggles with larger frames and lenses with patterns or prints.
Choosing the Right Type of Swimming Goggles
In addition to the previously mentioned factors, there are different types of swimming goggles on the market. They are created with particular goals in mind. Choosing the correct pair can significantly improve your swimming experience.
Recreational goggles:
Suitable for casual swimmers who swim for fun or exercise, while training goggles are ideal for more serious swimmers who engage in regular training.
Competition goggles:
Designed for competitive swimmers who need maximum visibility and minimal drag.
Prescription goggles:
Customized to match your prescription, allowing you to see clearly underwater without glasses or contacts.
Mask goggles:
Larger goggles that provide a wider field of vision, perfect for snorkeling, diving, or exploring underwater.
Polarized and Mirrored goggles:
Polarized lenses reduce glare from the sun, making them ideal for outdoor swimming in bright conditions. Mirrored goggles have lenses with a mirrored coating that also helps reduce glare and improve visibility in bright conditions.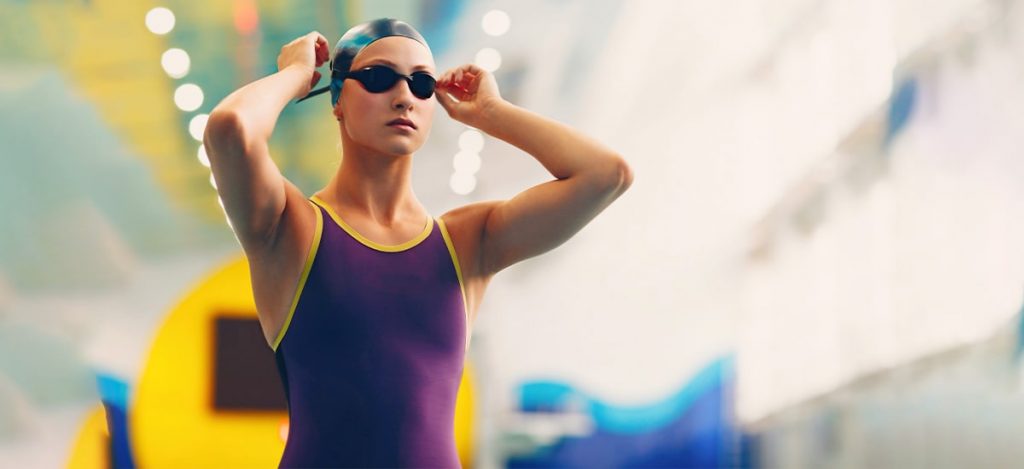 Swimming goggles Care
To ensure that your goggles remain in good condition, it is important to handle them carefully. Specifically, avoid touching the lens or allowing it to come into contact with any other objects besides water and air.
If you notice any deposits on the lens, rinse it thoroughly with cold water (tap water is fine). Even if you don't see any sediments, you may rinse it after swimming to remove any chlorine buildup.
Do not wipe the lens with a cloth or use any solvents, as this can cause damage.
If fog builds up on the lens due to temperature differences, immerse it in water or rinse it to eliminate the fog.
When not in use, store your goggles in a proper container that protects them from extreme temperatures and long exposure to sunlight. Use the case provided with the goggles or find an exclusive container to keep them safe from scratches or other damages.
If you notice any irreversible damage or issues with your goggles, it's time to replace them.
Don't let discomfort or bad visibility keep you from having fun on the water. Invest in a good set of swimming goggles and keep them that way with our tips.
If you're interested in improving your swimming skills, Pursueit offers swimming classes for kids and adults in Dubai for all skill levels. From beginner classes to classes for advanced swimming techniques, our certified swimming instructors can help you improve your performance and gain confidence in the water.

We offer both private swimming classes and group swimming classes. You can also take swimming classes at home with a private swimming instructor.