So, you have decided to take your first dance class. Congratulations! Whether you wish to learn a new dance form, get some exercise, or have fun, taking a dance class is a great way to achieve your goals. If you are new to the dance class, you might be wondering what to bring, what outfit to wear and what to expect.
Don't worry, we have got you covered. We will take you through a checklist of items to bring. Read on to find tips on what to wear to your dance class. Let us have you feel confident and prepared from day one.
So grab your dance shoes and get ready to learn. Here are the things you should bring and can expect in your first beginner dance class.
What to bring to your dance class?
When it comes to attire for a dance class, remember it is about feeling comfortable than looking great. Pick up comfortable and flexible outfits that make you feel confident and allow for a full range of motion. Check out our guide for tips on clothes, footwear, and accessories to wear to dance class.
Dance class outfit
To fully enjoy your dance class, you should wear something that makes you feel both comfortable and confident. You prepare for dance classes by wearing an outfit that matches the dance style and reflects how you want to feel. Here are a few general options for tops and bottoms
Tops:
Fitted or loose t-shirts that allow freedom of movement

Tank tops or fitted tops for more intense classes or warm environments

Breathable and lightweight t-shirts that wick away sweat to keep you cool and dry
Bottoms:
Leggings, yoga pants, sweatpants or joggers for warm-up and stretching to provide a full range of motion

Shorts for classes that require more footwork or turning
Remember, the most important thing is to wear something that makes you feel comfortable and confident to help you focus on learning and having fun in your class. Avoid wearing loose clothing or items with buttons or zippers that can get in the way or distract you during the dance class.
The right footwear for your dance class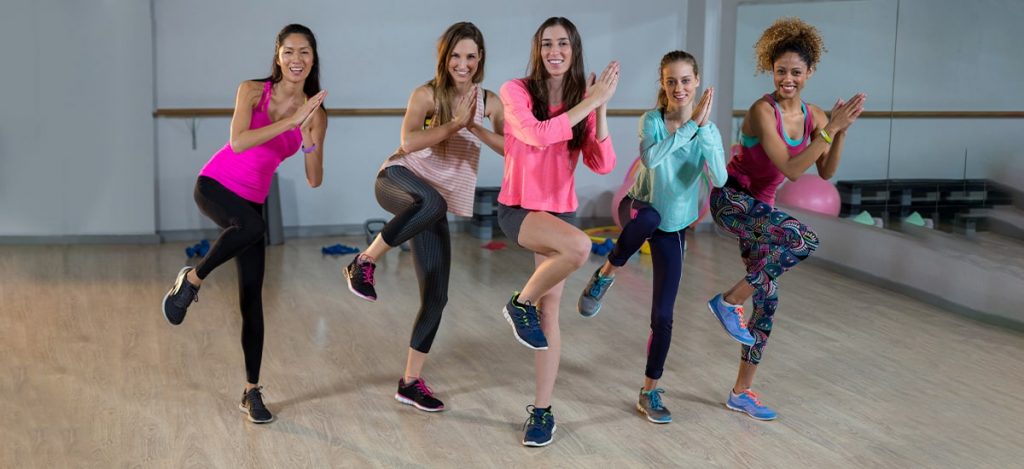 Choosing the right dance shoes is an important part of preparing for your first dance class. The type of footwear will depend on the style of dance or the dance class you have chosen.
For example, in ballet dance classes, it is recommended to wear ballet slippers. They are lightweight and flexible and provide a snug fit for your foot. These shoes come in leather or canvas, with full or split soles. Dancers also prefer the same for belly dancing classes, especially if they are uncomfortable barefoot.
In certain Contemporary dance classes and Latin American dance classes, leather or canvas shoes with rubber or suede sole is suitable for practice. They provide good traction on the dance floor. They have a low profile that allows for easy movement.
For Hip Hop dance classes or Bollywood dance classes, you may pick up an athletic pair of sneakers or dance sneakers. There would be a lot of jumps and hard stomps. These shoes will provide support and cushioning for your feet. Depending on the floor of the dance studio, you might be required to choose a non-marking sole to protect the dance floor.
In many Indian Classical dance classes like Bharatanatyam classes and Odissi Classes, students dance barefoot. It is because these performances are often performed in temples or on other sacred grounds where shoes are not permitted.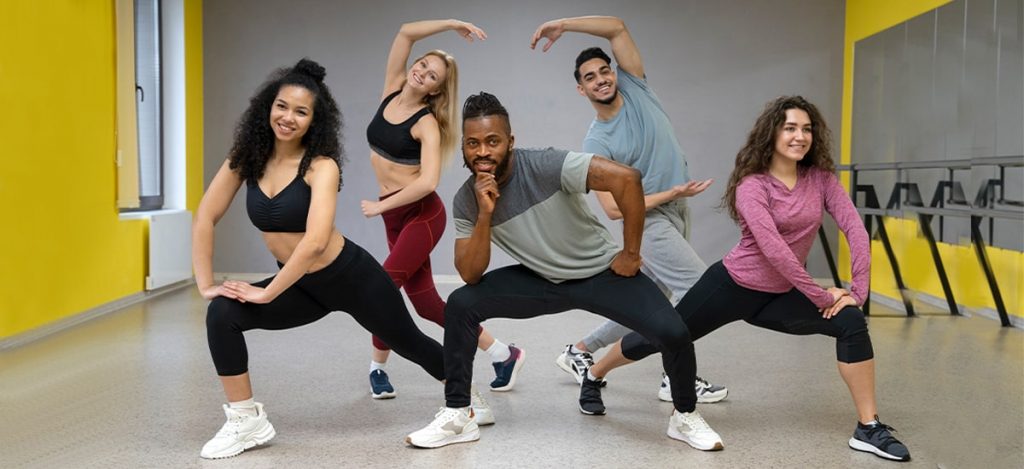 There is also another cultural and traditional significance in dancing barefoot. The connection to the ground or the dance floor is an aspect of these dance forms. However, some instructors may recommend wearing soft dance paws or similar protective footwear for students who are uncomfortable dancing barefoot or who require additional support for their feet.
Other accessories: water bottles, towels, and hair ties
Bringing a water bottle is essential to stay hydrated. Hair accessories such as hairbands, pins, or ties are important to keep hair out of the face. Towels can be useful to wipe sweat and provide cushioning when sitting or kneeling.
Remember to choose a compact towel that is easy to carry and bring a separate one for wiping sweat and another for cushioning.
Consult with your dance trainer to find out if there are any mandatory outfits or items they do not recommend for your dance class.
Remember, dance class outfits are not the same as authentic dance costumes, which can be less practical and restricted only to performances and dress rehearsals. Do clarify with your trainer the appropriate attire for your dance class.
Interested in taking up dance classes? You can find a range of dance classes in Dubai or hire a private dance instructor with PursueIt.

Get in touch or explore PursueIt.ae to know more about the dance classes in Dubai, UAE.