It is always a good time to hit the pool or the beach! Before you do, make sure you are suited up right. Finding your swimsuit goes beyond finding the right size and style. You should purchase a suit that is comfortable, durable, and suits your personal preference. Let us explore the options available and the factors to consider before choosing your swimsuit for swimming classes or a relaxing dip in the pool or beach.
Design and Coverage
In swimsuit design, some choices offer more coverage, while others are more revealing. You should choose a design that makes you feel comfortable and confident. Here are a few swimsuit options based on design and coverage for both men and women.
Types of Swimsuits
Remember that finding a swimsuit that fits well and makes you feel comfortable in the water does not mean you should compromise on style. There are many options. The key is to find the one that works best for you and your personal needs and preferences.
You can also choose multiple suits and use them for different occasions. You can have one for the beach, another for your swimming class, and one for training or lounging in the pool.
Based on the fit, style, and coverage they offer, you can categorize swimsuits as given below.
For women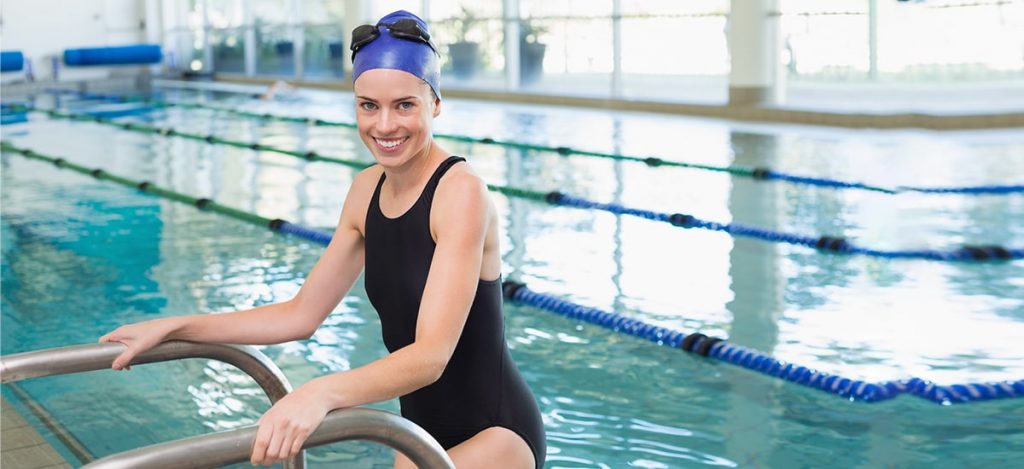 One-piece swimsuits: It is more conservative as it covers more of the body than other swimsuits. There are variations with higher leg openings and deeper necklines.
Bikinis: This two-piece suit offers lesser coverage. The bikinis come in a range of styles. There are different cup shapes and sizes and a range of bottom coverage. The straps also vary as they go over the shoulder, behind the back, and around the neck. There are also strapless options.
Tankinis: Tankinis have a bikini bottom with a tank top.
Monokinis: A monokini is a one-piece swimsuit with cut-out sections. The cuts expose the sides, stomach, and back. A range of necklines is available in this variety.
Burkini: Among all swimsuits, the burkini offers the most skin coverage. It covers the entire body except for the hands and face.
For men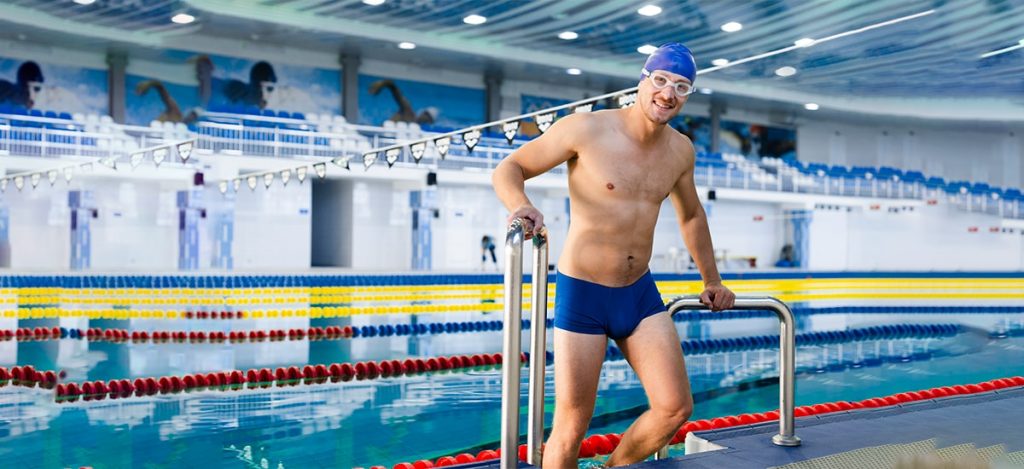 Briefs: It offers a snug fit that covers the genitals and buttocks.
Boxer briefs: The boxer briefs are longer than briefs and cover some of the upper thighs. It also has a snug fit.
Trunks: The trunks offer a relaxed fit and cover the genitals, buttocks, and upper thighs.
Board short: This is similar to the trunks but offers a slightly increased coverage of the upper thighs.
Square-cut trunks: It is form-fitting and offers more coverage of the upper thighs. It covers at least until mid-thighs.
Jammers: Jammers are also form-fitting but cover the entire thighs.
You may also consider the rash guards. It is a swimsuit with long sleeves and a high neckline that provides protection from the sun and helps prevent rashes from chafing.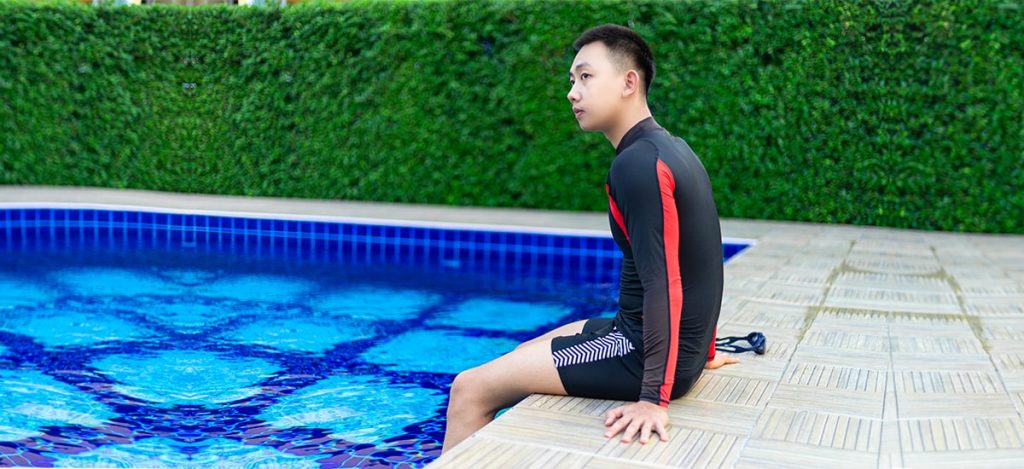 Select your swimsuit based on your activity
Consider the type of activity you will be doing. You can be training, competing, or relaxing in the pool. It will determine the time you need to be in the water and the range of movement. Based on it, you can think about the coverage, support, and comfort. For example, you can choose a snug-fitting swimsuit to reduce drag and swim faster, while you could be more comfortable with a relaxed-fit swimsuit if you are lounging in the pool.
Once you have decided on the type of swimsuit(s), you should make the purchase decision based on the fitting, quality of the fabric, and durability.
Fit and fabric quality
Choose a swimsuit that fits you well, rather than buying a smaller or larger size in hopes of a better fit. A smaller one can be restrictive, while a larger one can increase drag and feel uncomfortable.
Check the fit of the elastic parts and the overall stretch and recovery of the fabric. It is not just about comfort but also durability. Swimsuits can stretch out or become loose over time, so choose the right size in the first place.
opt for high-quality fabric and durable fabrication to ensure your suits last longer.
Maybe your first swimsuit isn't the best.
Remember that the first swimsuit you purchase or try may not always be the best fit for you. Be open to trying multiple styles and brands to find your best choices.
Make sure your swimsuit is comfortable and not too tight or too loose. Do not think twice and replace your swimsuit if it becomes stretched out or damaged.
Are you looking for swimming classes in Dubai or interested in hiring a personal swimming coach? Look no further! On PursueIt, you can find a variety of options to choose from. Get in touch with us to learn more.