Have you ever watched Olympics? Seeing athletes win on the television or watching someone swim towards the setting sun on the beach and felt a rush of emotion you can't describe? You're not alone! Humans, throughout history, have fallen in love with the idea of swimming – from the health benefits it has to the therapeutic tranquility it brings. Swimming has been carried throughout the years and has slowly moved away from being just to recreational activity to a competitive sport, too. Here are a few reasons why you should start looking for swimming classes in Dubai right away:
There's no age limit when it comes to learning swimming
Did you know, the youngest competitive swimmer is only 10 years old? And that Japan's oldest active swimmer is a centenarian – standing strong at 105 years old – who learned to swim at the age of 80? Swimming is one of the most inclusive activities where learning depends entirely on your will to do it. Another aspect of taking swimming classes in Dubai that makes it so easy to grasp once you set your mind to it is that it doesn't require copious amounts of fixed training and fixed times to understand it. Got a meeting at 5 but do you also have your weekly class at 5? No problem, we can swim around it.
There are plenty of swimming classes in Dubai that you can find with private instructors or even with groups of people who share similar interests like yours that fit into your time schedule. There truly are no barriers when it comes to learning swimming, especially with the wide range of swimming classes in Dubai provided by Pursueit. 
Although…there is one thing you should know about swimming and age…
Swimming ages you…down! Along with the obvious benefits of health swimming has, studies after studies have shown that swimming regularly can biologically reduce your age by 20 years! Better joint moments, lower blood pressure, and cholesterol can all be checked off your list of ideal physical fitness. Apart from this, the tranquility of water and feeling your body relax is so therapeutical that it takes the burden of stress away from your face. The sun and humidity here can definitely take a toll on your body and skin, so finding good swimming classes in Dubai needs to be a #1 priority.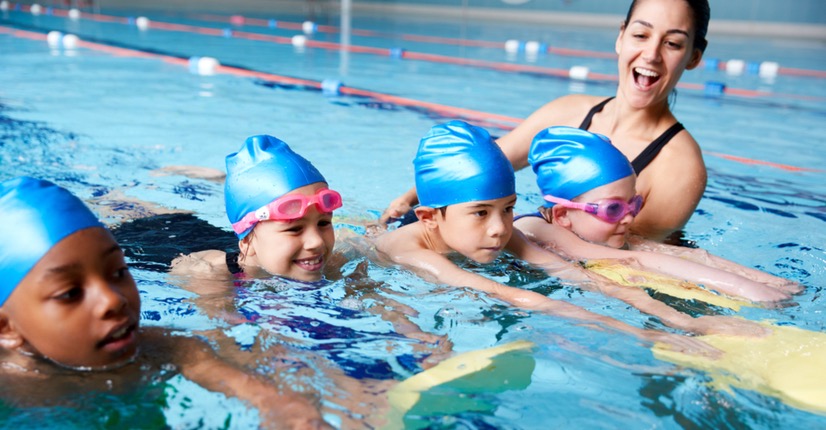 One of the best activities for your brain and your heart
You read that right. Swimming is one of the few activities that at the same time, stimulate your brain and your heart. Along with building endurance and decreasing stress levels, swimming has a direct impact on your heart rate and improves your blood flow. Here's the simple science behind it: water pressure on your chest cavity encourages upward blood flow. With your heart pumping blood more efficiently, overall blood flow to your brain increases, resulting in better memory, better clarity, greater attention span, and clearer focus. It's the buy one swimming class get thousands of perks sale and if you haven't already, then it's time for you to head over to Pursueit and search "swimming classes near me" and get started!
The Ultimate Workout
This might come as a surprise to many, but swimming is one of the most intense all-body workouts there is, using more muscles than even baseball or football! It utilizes almost every single major muscle in your body at the same time instead of targeting one specific group of muscles like other sports do. This doesn't mean only sports, but also other cardio-based and exercise activities including cycling, running, etc., Pursueit is offering you affordable swimming classes in Dubai that make sure your heart, lungs, and brains are all engaged at the same time to propel your body against water, in one of the most efficient fat burning activities that help you tone your muscles.
You'll never get bored
Freestyle, Butterfly, Breaststrokes, Backstrokes…should we keep going? Apart from the wide range of swimming classes in Dubai that Pursueit is offering you, swimming is diverse not just in class options but also in the things you can choose to engage in and learn during your swimming classes. This is especially important when it comes to children – they can get bored easily of repetitive activities, but with swimming styles and the right instructor, the sky is truly the limit. If you're looking to learn swimming and are constantly on the lookout for swimming classes in Dubai, then a simple "swimming classes near me" search on Pursueit will bring you all the information you need.
Closing thoughts
Swimming is one of the most beautiful ways to bond with nature and improve your well-being. For children, it is an exceptional skill that will teach them how to fine-tune their body movements and listen to their muscles and what their body is telling them, right from a young age. For adults, finding activities that fit your lifestyle and are both, rewarding and healthy can be hard, but with swimming, you can find the right balance between health and happiness. Pursueit is offering you a platform to find your balance with the best swimming classes in Dubai available right now. At Pursueit, we are committed to bringing the best ways for you to learn swimming in Dubai, just a click away.
Searching for "swimming classes near me" on Pursueit will bring you the best results for classes that can be chosen by your preference of dates, times, days, instructors, and even venue – beach or a pool! Quality learning equals quality growth, and swimming is definitely one of the best ways out there for children and adults alike to unlock their body's potential to the fullest. Learning something new can be daunting, but with the swimming classes in Dubai that Pursueit provides, you can relax. So, remember, if the question is to swim or not swim, there's only one answer…yes!
Want To Enroll – Visit us at https://www.pursueit.ae/ or Contact Us +971-0585787783
SPECIAL OFFER : Use Code BSWIM10X to get upto AED 100 off (10% max) on swimming classes. Valid till 18/11/2021, T&C's apply
Also Read –
Tips for purchasing your first pair of roller skates
Start Exploring Your Hobbies and Interests!
Develop and Master New Skills, Regardless of your Age, Profession, or Goals: Here's How!
Why Engaging in Activity Classes is a Must for People of all Ages!